Need a call back?
Simply fill out the form below and we'll call you.
Give us a call!
Get in touch, we want to hear from you.
Upload your CV
Be a part of our team at FPM, simply fill out the form below.
Upload your CV
Be a part of our team at FPM, simply fill out the form below.
back to news
15 February 2021
COVID-19 Financial Support Update | No. 15

This COVID-19 Financial Support Update | No. 15 is a unique single reference source of the financial supports available to businesses in Northern Ireland and Ireland.
We are all working and living in unprecedented times. The devastating Coronavirus pandemic presents rapidly changing and challenging circumstances for the business world. FPM aim to keep in touch with clients by providing continual updates of the support measures available to businesses operating across Northern Ireland & Ireland. The COVID-19 Financial Support Update incorporates further clarity, as of the 15th February, of schemes on offer to businesses operating on the island of Ireland, North and South.
We have been very encouraged by the positive feedback and recognition that our Coronavirus updates have received. It is acknowledged that this is an extremely fluid and changing environment and as a result we will continue to provide further Coronavirus Updates in light of this.
---
Changes since our last update include:
Northern Ireland | The COVID-19 Health Protection Regulations have been extended until 5th March, therefore the Localised Restrictions Support Scheme (LRSS) and the Covid Restrictions Business Support Scheme (CRBSS) have also been extended to reflect this. Further detail on the Pay As You Grow (PAYG) initiative has been announced, resulting in more flexible repayment options for Bounce Back Loans. There have also been new funding schemes introduced for micro-businesses seeking to develop their e-commerce capability and for businesses seeking capital investments to improve productivity.

Ireland | The Government announced €160m for additional supports to help businesses during the pandemic.  These supports are aimed at businesses such as wholesalers, caterers and event suppliers which have been unable to access CRSS.  We also highlight the new €55m Tourism Business Continuity Scheme which is now open for applications

---
To View & Download FPM's COVID-19 Financial Support Update
---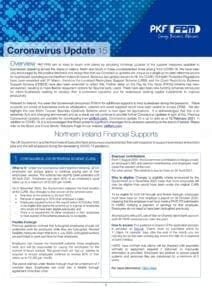 At FPM, we're here to help you solve the unique challenges faced by businesses due to Covid-19. The earlier you talk to us, the better we will be able to help you.
If you have questions or business concerns about adjusting to the Covid-19 'new normal', please contact our Evolve Covid-19 Support Team for assistance or call us on +44(0) 28 9024 3131 (NI) or  +353(0) 1691 3500 (RoI)
---