Need a call back?
Simply fill out the form below and we'll call you.
Give us a call!
Get in touch, we want to hear from you.
Upload your CV
Be a part of our team at FPM, simply fill out the form below.
Upload your CV
Be a part of our team at FPM, simply fill out the form below.
back to news
03 October 2023
Succeeding at Succession attracts Full House
---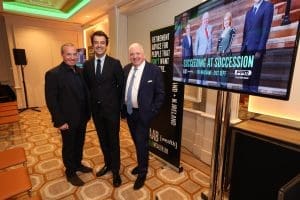 Scroll down for all the photos from the event
The recent Succeeding at Succession event, hosted by FPM and AAB Wealth at The Merchant, Belfast on Thurs 21st September 2023, showcased the importance of protecting wealth for future generations in a tax-efficient manner, with a financial plan to help you achieve the best from life. The evening brought together a distinguished group of industry leaders, family businesses and professionals, who fostered meaningful networking and conversations over canapes and drinks at the well-regarded event venue, The Merchant Hotel.
With the ultimate goal of preserving family wealth, the event shed light on effective strategies and best practices. Attendees, who had pre-registered due to the high demand for this exclusive event, gathered to learn from the experts and gain valuable insight into the complexities of succession planning, inheritance tax and retirement planning.
The event featured notable speakers from our team, including Feargal McCormack, Managing Partner at FPM, Paddy Harty, Tax Partner at FPM and Andy Dines, Head of AAB Wealth. They shared their extensive knowledge on the challenges and solutions related to wealth management with live case studies.
Missed out? Fret not! we've outlined some essential considerations when estate planning, in this recent article on Succession without the Backstabbing – How to be positive with your Estate Planning.
For more information, please contact our Family Business Team or our AAB Group colleagues from AAB Wealth.